Papaya, a fruit which is available throughout the year, is deliciously sweet with a soft butter like consistency. This pear-shaped fruit is usually 7 inches long with about 1 pound in weight with the inside flesh being rich orange in color with a slight shade of pink or yellow.
What is not well known is that Papaya has a lot of hidden benefits for skin, health and hair. Not just the fruit itself, but other parts of papaya also are very beneficial. Like 'Papain' commonly known as Papaya Enzyme is a kind of –enzyme which is helpful in digesting proteins. It is extracted from the tree and the fruit to make dietary supplements, and is also used as a major ingredient in some chewing gums.Papaya for skin offers numerous benefits.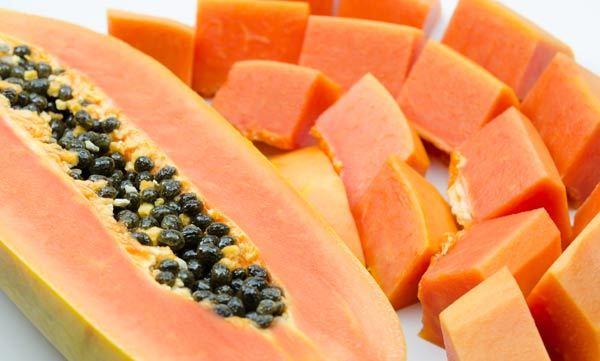 Apart from Papains, papaya is also a rich source of antioxidant nutrients such as carotenes, vitamin C and flavonoids; the B vitamins, folate and pantothenic acid; and the minerals, potassium and magnesium; and fiber. The pulp of this fruit is also a basic component of many facial creams, and shampoos
Benefits of Papaya:
Papaya Skin Benefits:
Papaya which is rich in so many healthy components is best for skin care too as it promises and works to provide you with healthy and glowing skin.
1. Being a good source of Vitamin A and Papain, this fruit helps in removing dead skin cells along with breaking down the inactive proteins.
2. The best feature of papaya is its 'Low Sodium Quality', thus resulting in very little retention of water. In simple words it means, it helps you keep your skin hydrated.
3. Papaya is actually a wholesome fruit as it contains more Carotene when compared to other fruits like apple, custard apple, guava and plantains. Not being an expensive fruit, papaya is a common man's fruit which is beneficial in many ways.
4. The application of finely grounded paste of raw papaya on the face for 25 minutes helps reduce those unwanted pimples and other embarrassing blemishes on the face.
5. Both, direct application and eating will help you achieve smooth, supple and soft skin.
6. Regular consumption or application of papaya also provides a shine to the skin, which comes from within and is long lasting.
7. The mashed papaya can be used for treating the sore and cracked heels.
8. Papaya also acts as a natural skin exfoliator.
9. Application of papaya also helps in skin discoloration.
10. The peel of papaya can not only be used on the face, but it can also be used for whitening the legs.
11. The use of raw papaya helps you treating the ringworms as well. You just need to rub some slices of raw papaya on the ringworm patches and see reduced inflammation.
12. Papaya helps the skin by reducing the aging signs on the face.
How to Use:
The papaya peel helps in reducing and treating the signs of aging. Just rub the peel on the face after eating the papaya. Let it stay for 5 minutes and then wash it off with cold water. Regular use offers visible results. The most coveted ingredient, AHA's or Alfa-Hydroxy Acid, are found in abundance in papaya to offer anti-aging properties, but this is the only reason which makes papaya an acidic fruit. So, do not apply it for more time as it may cause dryness and irritation to sensitive skin.
Papaya is also fruitful for treating the dark spots.  The application of mashed and uneaten papaya with or without milk on your face can help in removing the dark spots and evens out the skin tone which results into a fairer and glowing skin.
For getting hydrated skin, mix mashed papaya with honey and apply on your face.
Papaya is also effective for treating dry skin. All you need to do is to mash a small section of papaya and mix it one tbsp of Malai or milk Cream. Apply on your face for 20 minutes and then wash it off.
A very simple method for moisturizing the skin is applying papaya on it. Take a ripe papaya, clean it and blend it into a fine paste. Now apply this paste on your face for 15 minutes. Wash it off using a wash cloth and pat dry to get great results.
For skin tightening, apply mashed papaya mixed with honey and rice-flour for 20 minutes, three times a week.
Papaya is also suitable for using as a body scrub. It can be made by mashing raw papaya and mixing it with honey, salt spa and olive oil.
For curing the skin tans and brightening the complexion, the simple face pack can be made. Just follow the steps mentioned below:

Make a paste of pulpy papaya
Add yogurt, honey, lemon juice and egg white into it
Mix all ingredients till the mixture becomes thick which can be applied on the face
Wash your face thoroughly so that it becomes clean and dirt free
Apply this facial mask on your face and leave it for 15 – 20 minutes
Wash off with the lukewarm water and pat dry
Papaya benefits for skin are truly endless. We will now proceed to the benefits of papaya on hair.
Papaya Hair Care Benefits: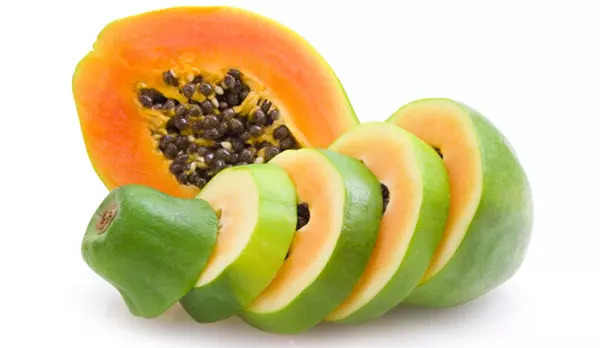 Apart from amazing skin care benefits, papaya is also useful when it comes to hair care. According to hair care professionals, the benefits of papaya for hair can be gained by eating the fruit regularly or by the regular use of hair care products containing papaya as its major ingredients. Papaya can also help in creating the volume by nourishing the hair shaft. Other papaya benefits for hair are listed below:
1. Rich in nutrients, papaya may help prevent balding, thus helping boost growth and strength of the hair.
2. Papaya is also used for controlling dandruff.
3. Add papaya to your daily diet to help reduce hair thinning. Although no scientific evidence has been derived with this theory, but still many people have tried and found it worthy. Results may vary from individual to individual.
4. Papaya being rich in minerals, vitamins and enzymes also helps in removing the dirt, oil and chemical build up from the hair in a very safe way.
5. Papaya leaf extracts can be used as a conditioner for adding shine to dull, unruly and lifeless hair.
6. Using of papaya hair mask can result into thick, strong, shiny and healthy hair.
How to use:
Below written Papaya hair mask will help you add thickness, strength and shine to your hair.
Ingredients:
1 cup diced ripe papaya
1 cup diced ripe banana
1 tbsp molasses
1 tbsp coconut oil
1 cup yogurt
Directions:
Blend all the ingredients together thoroughly. Take care that no chunks remain after blending
Apply to damp hair
Cover with a plastic cap or shower cap
Allow it to stand for half an hour
Now wrap a towel around your cap to generate heat
Again leave it for another half an hour
Now wash your hair in your  regular way
It is optional to add your favorite deep conditioner to this recipe to get super soft hairs
Now that we have seen how Papaya is beneficial for the hair, lets discuss about the medicinal uses and how it helps cure many problems.
Papaya Health Benefits:
Papaya benefits are not just limited to skin and hair care. Several researches conducted on papaya also showed a lot of its medicinal properties. Many scientists have successfully concluded that papaya is beneficial for health related problems and some diseases too. Let's find out what else papaya can do other than benefiting skin and hair.
1. Papaya acts as an antidote for hypertension. This is one of the most popular health benefits of papaya. The rich amount of potassium in papaya helps keeping the blood pressure in check along with improving the mental alertness.
2. Another of the most important papaya health benefit is that can help improve eyesight. Consuming 3 or more servings per day may keep your eyesight normal, along with improving and lowering the primary cause of vision loss in older adults.
3. Papaya also helps in boosting the immunity system of our body. The presence of Beta-carotene in papaya is required for the proper functioning and boosting of the immune system.
4. Papaya also prevents the body from recurrent ear infections, cold and flu.
5. Papaya also provides protection against heart diseases. As it is rich in nutrients too, it helps in preventing the oxidation of cholesterol, which helps preventing the cause of heart attacks or strokes.
6. Papaya can also heal external wounds. The pulp of this fruit can be applied directly on the wounds.
7. Papaya is also able to cure chronic ulcers on skins. All you need to do is to take papaya juice and mix some butter in it. Apply it on the affected area for quick drying and healing of long standing ulcers.
8. If one suffers from respiratory disorders like cough, bronchitis and breathlessness, then papaya can be helpful as it contains latex which is useful in the respiratory disorders.
9. Papaya despite being sweet in taste is also good for diabetic patients.
10. Papaya can also help you from cancer. Papaya's fiber is able to bind to cancer-causing toxins in the colon, thus keeping them from harming healthy colon cells.
CULLED FROM STYLECRAZE.COM